H
E
L
L
O
!
hey hey!
welcome to my little corner on the web!
♥ ♥ ♥
there isn't much to do here right now, but there sure will be after a while, if you just wait a few months :D
♥ ♥ ♥
i hope you find my site fun! or just a little entertaining!
♥ ♥ ♥
btw isnt this site supposed to be based around my sweet piano, not my melody or hello kitty.. :/
...oh well!
CLICK HIM!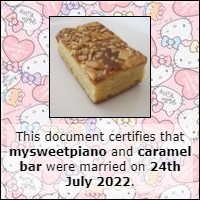 HEY HEY THERE!
IF YOU'VE RUN OUT OF THINGS TO DO / CLICK ON HERE I RECOMEND CHECKING OUT THE
WEBRINGS
I'M LISTED IN!
ALSO DON'T FORGET TO LEAVE A LITTLE MESSAGE IN THE CHATBOX :D AND IT'D BE AWESOME IF YOU GIVE ME A FOLLOW ON
HERE
!



SONG OF THE (WIP)

"Favorite Band" By Chloe Moriondo

FUN FACT:

i don't shut up,
i grow up,
and when i look at you
i throw up.